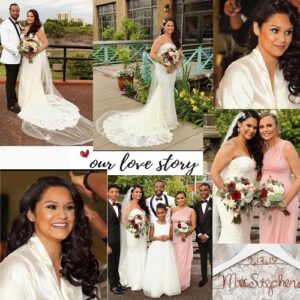 Every Love Story is unique in its own way. When one asks Hair By Misa to be a part of their special day it is not something that is taken lightly.  It is a day filled with a lot of emotion and although it can be very stressful with the work that has to be done combined with the roller coaster of emotions channeled all over the room; it is well worth it once you see the outcome.
Currently, we are experiencing a very unusual time with the Covid-19 taking place.  So I decided to tap back into 2019 since 2020 has been a little shaky..ok maybe more than a little. Liztazia asked me to be a part of her wedding day, which was July 13th 2019.  I was honored as this is someone I've known since I was 14 years old.  We went to the same high school together and I always remember the nice people during that time, because high school wasn't an easy journey for me.  Liztazia was one of those people who made that journey better.  We became really good friends and later began dancing together at Borinquen dancing theater.
I know that Liztazia is a woman filled with a lot of love and kindness.  She is not only beautiful on the exterior but the interior as well. So I know that Hasan is in good hands.  I always say you can tell a lot about a person when you travel with them or on their wedding day.  Leading to Liztazia's wedding day she was very easy going, calm and cool. She allowed the Bridemaids to be free with their hair, which usually mentally I go against, but it is not about me its about the Bride.  However, usually when that becomes the case it becomes more about the Bridemaids, and the vendors tend to feel it more.  Check on your glamquad and vendors some days we are not ok lol.   The only moment Liztazia started sweating was when we were attempting to put her custom-made jewelry piece on her head, which was pretty heavy.  It was beautifully done, but the way the holes were designed made it difficult to place on her head.  So to my future Brides if you have a headpiece being made try to get it early to bring to your trial.  Of course, things happen but if you can get it done do it.    I can't even lie I was sweating at that point because I didn't want to disappoint, but one way or another we were going to make it work and so said so done
.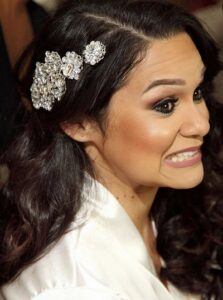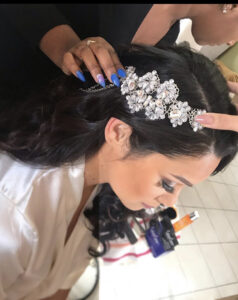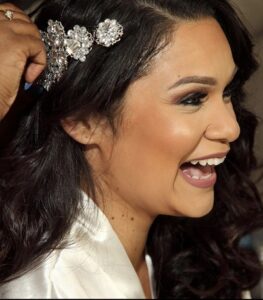 After the wedding, I decided to ask Liztazia some questions about her love story.  You can check it out below.
Where did you meet your partner to be?
I met my husband at my old job back in 2016 while teaching his class to the youth in the facility. He originally was not going to say anything to me. One of my coworkers and his business partner convinced him to ask me for my phone number, and that is how it all started.
 What was your first impression of your partner?
My first impression was "Damn, what cologne is he wearing, cause this man smells good!"
I have this thing with smells, to the point that everyone tells me that I have a hound's nose! On a serious note, being that I met him on a professional level first, I was immediately intrigued by how he engaged and captivated the youth in program. He is so talented and has an admirable passion for what he does. That was so sexy to me.
 How did you know he was the one you wanted to spend the rest of your life with?
I didn't know until I almost lost him due to my own fears. I met him during a time I was transitioning. It was as if I met him during the perfect/worse time. I was in a dark place. My heart had been completely shattered, and I felt emotionally that I was not in the right mind frame. He had been so patient with me, but I had the tendency of pushing him away. I was self-sabotaging because I felt like I wasn't good enough. I felt inadequate. I had given everything to someone who I thought was worthy and deserving of all of me but, turned out not to be the case. That was a hard pill to swallow. I realized that there truly is a reason for everything, and that person was not my final story. Hasan was ready to give up on the idea of "US' and I had to show him that I was ready and serious. It was then I realized that this man loved me unconditionally and deserved everything. He is my person.
What is your favorite memory together?
Our wedding day tops it all for our memories together. Prior to that would have to be our first trip to Disney World. It was our first time there ever!
What is your definition of love?
Love is hard work. Love is pushing you and your partner to be the best version of yourselves. Love has no limits to what you can accomplish together. It's when you are deeply connected and committed to that person and accept them for exactly who they are. You don't try to change that person and neither do they try to change you. It's a bond that is not easily broken.
 What sets your love story apart from others?
Our love is genuine. We focus on being able to love each other unconditionally, flaws and all. I would say that some people fall in love with an idea. We overcame and conquered our fears through patience, and truly we were able to fall in love with every step of each other's being. The Good, The Bad, & The Ugly.